Okay so! Let's make something very clear!
---


I personally am not that much into the game anymore but if you like, you can still use my music by noting the following:
You can use my music on Geometry Dash, and IF you upload the gameplay video which includes my song and you decide to upload it let's assume to YouTube:
You MUST GIVE ME CREDIT
You MUST TELL WHAT THE SONG IS AND WHO MADE IT including where to listen the song
It MUST BE FORMED BY FOLLOWING:
[Song] was made by Astedroid
[song link]
Also don't make me be like part of the game such as this:
"Heyy! Have you heard of this Geometry Dash artist called Astedroid???"
I am not saying I DON'T want to be part of the game, just as a person, i want to stay out of it.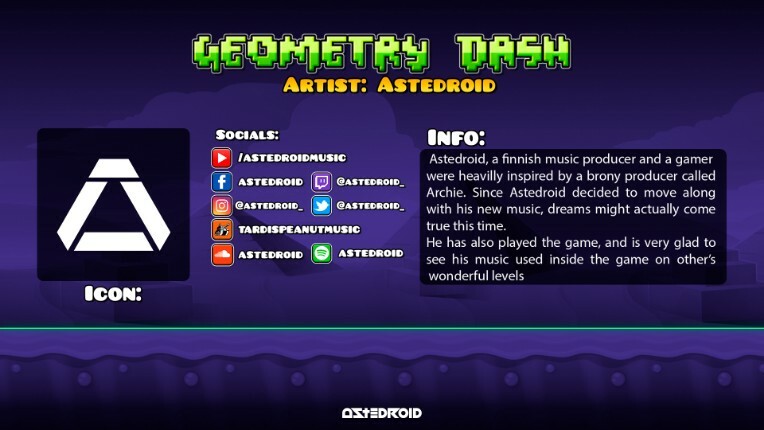 Although i made the following image, it doesn't mean i am part of the game.
PS: More songs coming although i am busy with school stuff especially when the corona-virus affected the whole country and the schools. Learn more about covid-19 at World Health Organization's website: https://www.who.int/emergencies/diseases/novel-coronavirus-2019/advice-for-public
PS: Please wash your hands while you can and have least of 2 meters or 5 feets of space you and other human